If there's a choice between being "naughty or nice", I think we all know which one I'll choose. So, when I heard about the Naughty Christmas Market, I just had to pop along last weekend and find out what it was all about.
Answer: a whole lot of vulva and a little bit of penis.
If you're looking for a nice traditional Christmas market with wooden huts, handmade arts and crafts, Glühwein and sausage, this probably isn't the right market for you. (Actually, come to think of it, there was sausage – in ceramic form for €250. Tempted though I was, I just couldn't really see where a ceramic penis would fit into the tasteful decor in my flat.)
If, however, you're looking for a special gift for the person who has everything, you might consider "The Post-Structuralist Vulva Colouring Book".
And instead of boring old wrapping paper, why not present it in a delightful (surely this season's must-have) cock bag?
After perusing my way through the PVC outfits, nipple suckers, nipple tassles, aphrodisiacs, high-brow literature, room of giant vulvas and elegant array of accessories…
…I hit pay dirt at the wankers' table.
Me: Bah ha haha! What are they? 
Hubertus: Wanking tissues. 
Me: BAH HA HA HA! Oh, look at the stickers! How cool are they!?
Hubertus: Take one.
Me: Free? 
Hubertus: Yes, free. 
Me: Then yes, don't mind if I do. 
I guess Hubertus thought I looked like a wanker.
With my "I love wanking" sticker, complete with sperm-adorned heart tucked into my pocket, I felt that that was probably as good as it was going to get at the Naughty Christmas Market and left, mulling over which hapless wanker I could stick it on at some point in the future.
I then promptly forgot all about it until I was rummaging around in my pockets a couple of days later. Thinking that spankrags.com sounded like it might be worth a chuckle or two, I fired up the laptop and headed on over.
This may be the best thing I have done all year.
Once I'd wiped the tears of laughter from my eyes (not with a wank tissue), I scrolled down to see what other treats the website had in store.
This was definitely the best thing I have done all year.
Under the section titled "The most memorable present ever", it states that "Unwrapping a stupid tie, or a pack of socks makes speechless. Unwrapping this gift makes brains explode!" Can't say I disagree. I was exploding just by being on the website.
Another section assures you that you will love wank tissues because "A thumbs up looks like grabbing a schlong. Think about it!"
I am! I am!
Spank Rags are also kind enough to offer worldwide delivery. "No matter if you live in an igloo, or a tent in the Siberian desert. We deliver to all our wankers!" This must be such a comfort to wankers everywhere.
There's a segment where you get to meet "the girls" – Alexa from Germany, Kate from England, Narcisa from Romania, Sarah from Canada "and her other lovely girlfriends from all over the world". I was a little sorry that each one didn't come with her own back story but I guess you can't have everything.
If you thought that the website couldn't get any better, whenever you hover over a link, the cursor turns into a cock and balls. I'm not joking – go and try it.
After reluctantly clicking through to Amazon, I discovered that €9.99 will get you ten different girls on ten wank wipes – "10 full-colour tissues for a great night in!" as it says on the box. If you're quick, you could probably get a box in time for Christmas. Just think how happy the special wanker in your life will be on Christmas morning…
Despite this feast of hilarity, I still wanted more so I headed on over to Twitter to see if Spank Rags have an account. Joy oh joy – they do!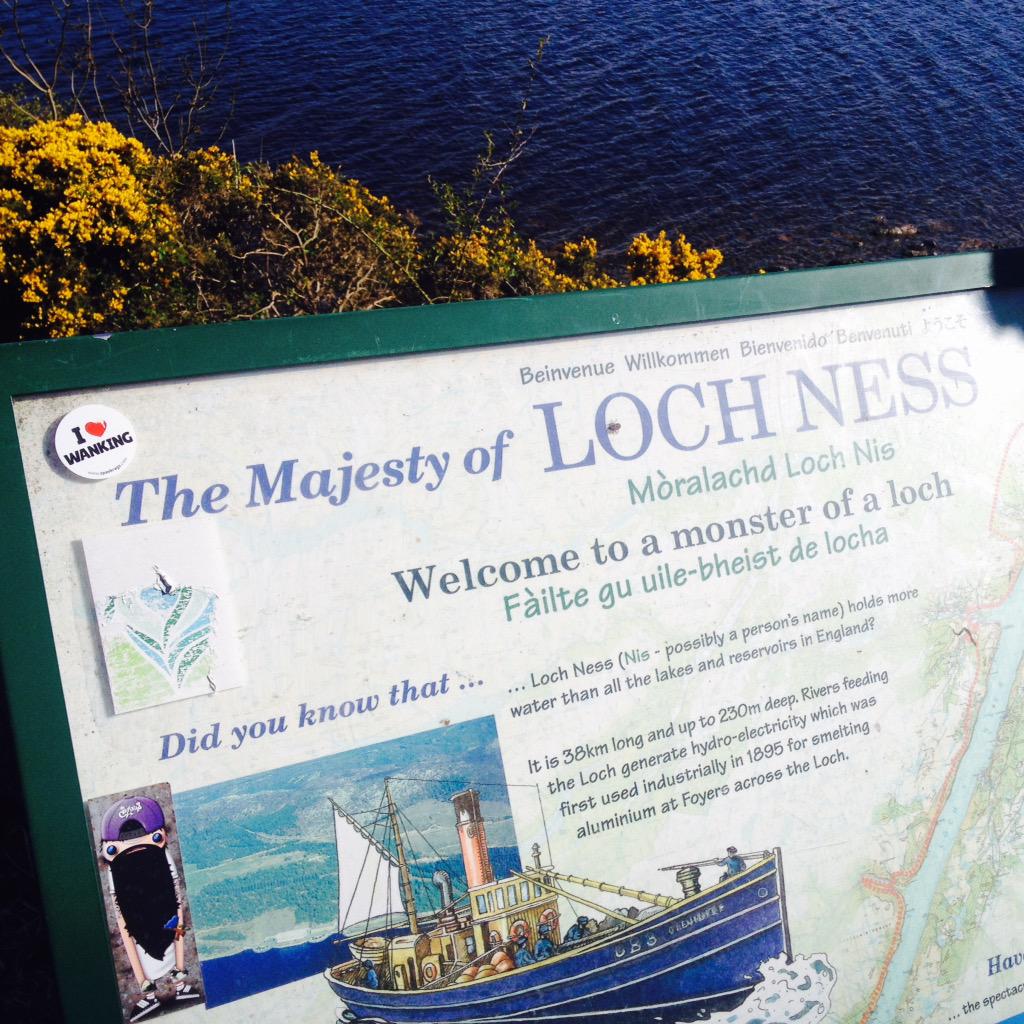 I guess wanking is as good a way as any to pass the time while you're waiting for Nessie to appear.
Anyway, that's probably as much wank as I can fit into one post without getting kicked off WordPress so I'll leave it there. I wish all of you a very merry Wankmas and a happy New Wank. (OK, a couple more "wanks" probably won't make much difference at this stage.)